Community Outreach
Direct intervention with children, women and factory workers

Rescue and rehabilitation of child labourers and children at-risk

Formation of children's parliament and adolescent's parliament towards promoting leadership skills

Promotion of workers' groups and strengthening community structures

Skills development for youth and women

Research and documentation

Alliances with trade unions, government departments, employer associations, and other social organisations at State, National, and International level

Lobby and advocacy activities in collaboration with stakeholders

Engaging in state, national, and international campaigns
Networking
International level network with Clean Clothes Campaign and other international NGO movements.
Tirupur Steering Group to set up common minimum labour and environment standards.
Tirupur Stakeholder Forum to establish guidelines for hostels regulated by garment factories and to regulate the employment of young women.
Active role in Campaigns against the Sumangali Scheme that perpetuates bonded labour, and other similar schemes; lure and exploit child labourers, resulting in like-minded NGOs coming together under the aegis of Tirupur People's Forum for Protection of Environment, Child Rights and Labour Rights (TPFPEL)
Campaign Against the Sumangali Scheme (CASS) to address labor rights violations specifically the exploitation of migrant child laborers and young women in the garment and textile industries.
The Child Rights Protection Forum for Girl Children (CRF(G)) is a networking platform that focuses on the specific issues relating to adolescent girls across Tamil Nadu
SAVE Consortium is focused on addressing the issue of underage employment as well as promoting safe migration.
National level network with the National Alliance for Social Security (NASS), SEWA, WIEGO, Homenet South Asia, Children at Risk (CAR), SCL India Platform for Child Labour Free Zone.
Multi Stakeholder Initiative Tamil Nadu (MSI-TN) was formed towards fostering cooperation and partnership among stakeholders, which includes suppliers, NGOs, trade unions and government. The main objective of MSI-TN is ensuring fair, ethical, and sustainable labour practices in the garment and textile industries across Tamil Nadu.
MSI-TN was born out of a need for addressing human rights abuses in the supply chain, which include: forced labour, child labour, discrimination, sexual harassment, underpayment of wages and irregular deductions, and excessive working hours.
State level institutional mechanisms for asserting fair labour practices are ineffective. MSI-TN aims to fill the gap. Recognizing the role of business and its importance in contribution of sustaining livelihoods, the MSI-TN intends creating open dialogue and discussion between all stakeholders, including businesses.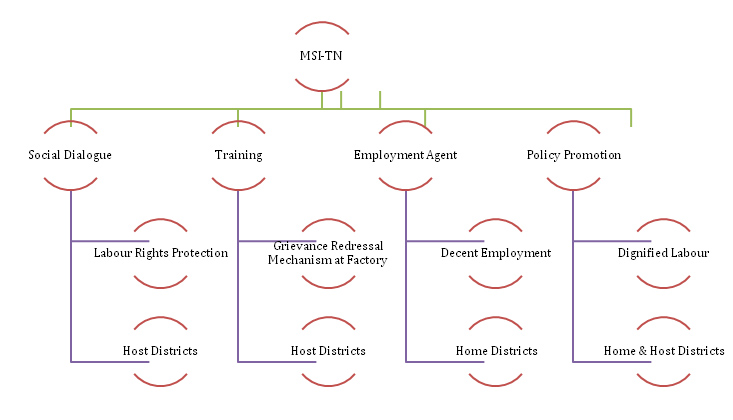 Policy & Media Engagement
SAVE has been ardently striving for bringing policies favouring:
All-encompassing education policy for underprivileged children,

Labour policy for deprived labourers, particularly young women and migrants
Research & Training
SAVE does extensive research to carefully analyze the challenges faced by workers and their families with focus on migrant workers. SAVE ensures that scientific methods are applied in research. It is used as an invaluable tool for building on crucial knowledge. Research is the most reliable way SAVE uses to understand the complexities of various issues and to maintain integrity. It is used to pursue an in-depth and deep original study about the complexities of various issues. The applied benefits of research are two-fold: first, it provides a means to enhance the knowledge base; and secondly, it provides a spring board to collaborate with relevant stakeholders in finding sustainable solutions for the problems..